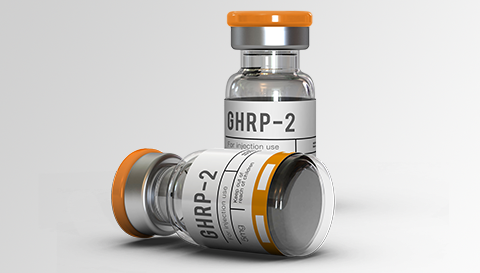 Type of Product
– Manufacturer: Polypeptide Group;
– Vial size: 5 mg;
– Purity: >98,6%;
– Molecular formula: C45H54N9O6;
– Molecular weight: 818 gram / mole;
– Shelf life: 3 years;
– Storage conditions: the drug should be stored in a refrigerator at a temperature of 2 to 8.
GHRP-2 is a stimulant of the secretion of growth hormone. The peptide promotes the independent production of growth hormone in the body. This growth hormone stimulant is part of a group of peptides that interact with the pituitary and hypothalamic receptors, and it also activates the ghrelin receptors, which in turn leads to increased appetite. The peptide has a short half-life, peak concentrations last about 15 minutes, but not more than 60 minutes after application. The peptide is also a synthetic agonist of the ghrelin receptors, binding to the growth hormone receptor. GHRP-2 increases the production of growth hormone. This drug, stimulating the release of additional growth hormone, has long been on the market of pharmacology and has earned a reputation as a quality tool that stimulates muscle growth, increases strength, and reduces weight.
Positive effects:
– increasing in production of growth hormone;
– muscle growth;
– increasing appetite;
– light amount of fat;
– lowering cholesterol;
– bone mineralization;
– skin and hair rejuvenation;
– liver protection;
– anti-inflammatory effect.
This product is not intended for human use. All products presented on this site are for laboratory research only. All information on the site is provided for informational purposes only.