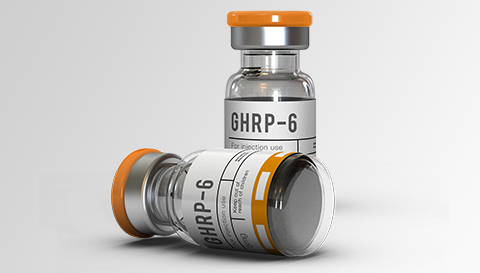 Type of Product
– Manufacturer: Polypeptide Group;
– Vial size: 5 mg;
– Purity: >98,6%;
– Molecular formula: C46H56N12O6;
– Molecular weight: 873,01 gram / mole;
– Shelf life: 3 years;
– Storage conditions: the drug should be stored in a refrigerator at a temperature of 2 to 8.
GHRP-6 is a growth hormone's secretion stimulant. The peptide promotes self-growth of growth hormone in the body. GHRP-6 comes from the group of glyinomimetics and is one of several synthetic methioline-enkephalin analogues consisting of D-amino acids that were created to work on the release of growth hormone, and are called stimulators of growth hormone. The peptide releasing growth hormone is a real stimulant for the secretion of growth hormone. GHRP 6 acts as a stimulator of the receptors of ghrelin and, as a result, stimulates the production of growth hormone. GHRP-6 is a hexapeptide consisting of a chain of 6 amino acids. Their special sequence gives the body the signal to produce growth hormone, blocking somatostatin, a hormone that slows the release of growth hormone.
GHRP-6 raises the level of hormone concentration of somatropin and, as a result, leads to the development of an insulin-like growth factor, which has an extremely beneficial effect on improving the constitution of the body, stimulates and strengthens the immune system, causing a general rejuvenation of the body and all its tissues.
Positive effects:
– increasing in power indicators;
– muscle growth;
– increasing appetite;
– fat burning;
– strengthening immunity;
– rejuvenating effect (improving the properties of the skin, hair);
– strengthening of bones;
– liver protection;
– anti-inflammatory actions.
This product is not intended for human use. All products presented on this site are for laboratory research only. All information on the site is provided for informational purposes only.